At your Service with integrity, value and qualilty workmanship since 1971

From Rooter to Trenchless Service, Installs to Repairs, we do it all..

Fully Licenced and Insured General Plumbing Contractor


Why should you choose Sartain Emergency Plumbing of Santa Barbara...click here


We're on it since 1985!
805-966-0296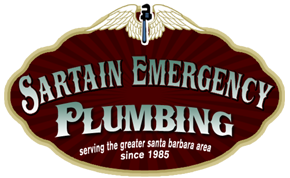 Have an Emergency?
before after you call:
To possibly prevent a situation from worsening, you can... click here
Residential
Whether it is an installation, repair or remodel, since 1971 we provide a free estimate of ONLY what you need and give you quality work that endures.
Commercial
Your restaurant, rental property, or commercial property is a valuable investment. Through our service and maintenance contracts, we keep you running with your bottom line in mind.

read more
what others say:
"What you fixed before has not given any signs of a problem. That is why we want you to fix this." We do it right the first time, so we do not have to fix our mistakes...
It is like you were not here. The problem is completely fixed, like new, and no signs you were ever here. Thanks!" We clean up before, during and after... We do not practice coming back for the same problem.